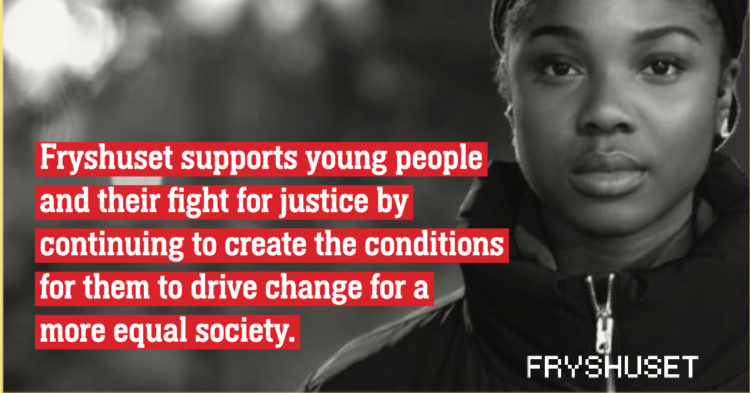 Fryshuset, George Floyd and young Swedes' fight for justice
Many of the thousands of young people participating in Fryshuset's activities around the country have been severely affected by the recent unacceptable events in the United States. The murder of African American George Floyd became the culmination of a series of noteworthy cases in which unarmed black, often young Americans have been killed by police, security guards or self-proclaimed neighborhood guards. The events have led to a wave of protests that are now sweeping across the world.
But the protests and reactions are not just about the deadly violence. They are also about underlying unfair and degrading opinions and conditions that also exist in Sweden, and that affect people with dark skin color or foreign origins. Despite large differences between Sweden and the United States, many young Swedes can therefore identify with the victims in the United States.
These young people are angry, and we are angry with them. Peaceful protests are a human right and one of the most important cornerstones of democracy. Hence, Fryshuset fully supports our young people in their convictions and struggle for justice and human rights. At the same time, we are convinced that all the energy that flows right now can and must be channeled into positive changes. Fryshuset works to make all young people feel like important parts of society, but in this moment, we need to see, hear and acknowledge black and brown youth in particular.
We will continue to mobilize and empower young people's commitment to fight inequality, unfair life conditions and racism. Fryshuset stands behind their struggle for justice and we will continue to create the necessary conditions for them to realize their quest for a fair and equal society.