Fryshuset promotes empowerment and social inclusion of youth, especially for those at risk or who already face exclusion. We want to empower young people, support their development and for their voices to be heard and taken into account on issues that affect them. We support worlds coming together, with youth dialogue at center-stage. We believe this is necessary to create a positive impact in building more equitable and sustainable societies.
Our vision

Fryshuset's vision is based on the conviction that encouragement, confidence, responsibility and understanding are necessary in order to enable young people to develop their innate abilities and find their way into society.
Our values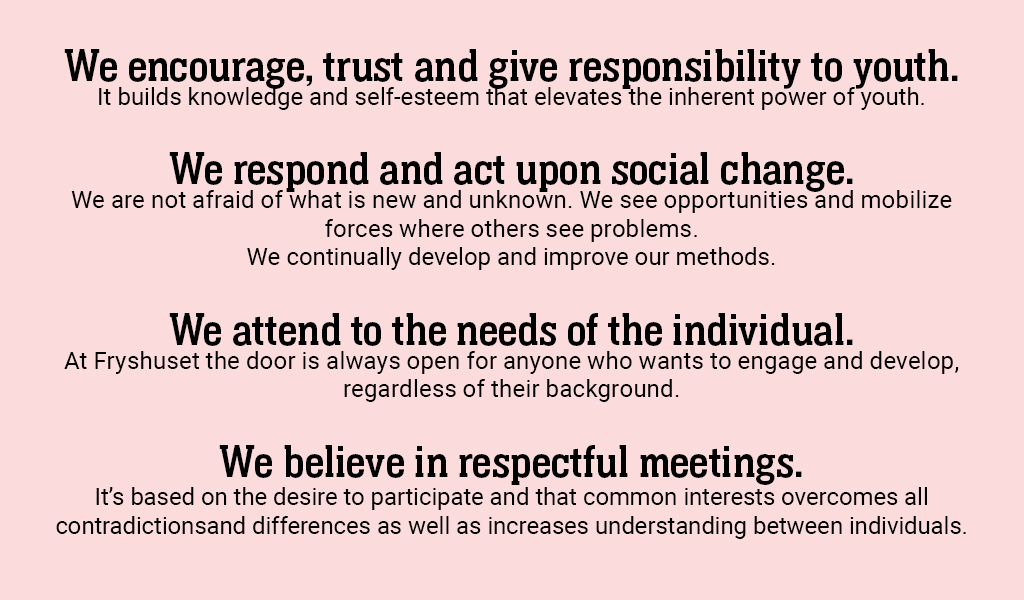 Our story

Fryshuset has 35 years' experience in working with mobilizing positive forces in young people in marginalized environments in Sweden and around the world.
Fryshuset was set up in 1984 as a result of the joint efforts by the YMCA of Southern Stockholm and a couple of unyielding enthusiasts – among them Fryshuset's legendary founding father Anders Carlberg. He was commissioned by the YMCA South to renovate an old cold storage in the outskirts of Stockholm, Sweden into a basketball hall. Hence the name, "Fryshuset" , which can be loosely translated into "coldstorage". Initially, sports and music were the sole activities at Fryshuset, but social issues soon made their way into the agenda as a reflection of young people's wants and needs.
In January 2013, Fryshuset's founder Anders Carlberg left us after a period of illness. The founder of Fryshuset Anders Carlberg was a boundless enthusiast. His faith in people and their ability to grow and develop was completely relentless – and most of all he believed in those who nobody else believed in, those who did not even believe in themselves. Anders Carlberg inspired people to practice compassionate courage, to believe in themselves and to dare to grow, even when no one else thought there was a chance to succeed.
Today, Fryshuset continue in his legacy and sees opportunities where others see problems. The organization has grown into a multifaceted global movement for the development of young people. A movement that continues to grow and spread throughout Sweden and to other countries.
Our accreditations & memberships

Fryshuset holds a valid Erasmus+ European Solidarity Corps accreditation (formally called EVS).
In light of promoting youth mobility opportunities Fryshuset is a Eurodesk local contact centre (Eurodesk multiplier) that provides information and advises young people on European mobility opportunities.
Fryshuset Foundation is a member of the following organizations, networks and associations nationwide:
The Swedish Fundraising Council, GIVA, which is the professional membership body for fundraising organisations in Sweden. Fryshuset is controlled by the Swedish Fundraising Control, which is the donor's guarantee that contributions are being used properly.
The Swedish National Advisory Board for Impact Investing
The Stockholm Chamber of Commerce
Forum Syd Civil Society Network
and globally,
The Eastern Partnership (EaP) Civil Society Forum, a joint policy initiative which aims to deepen and strengthen relations between the European Union (EU), its Member States and its six Eastern neighbours: Armenia, Azerbaijan, Belarus, Georgia, Moldova and Ukraine.
SIRIUS – Policy Network on Migrant Education. SIRIUS transfers knowledge and influences policy developments in order to help pupils from a migrant background achieve the same educational standards as their native peers.
Nordic network for SIB development. A competence group with stakeholders involved in developing Social Impact Bond models in Sweden, Norway, Denmark and Finland.
Network for Social Effect Measurement
Radicalisation Awareness Network (RAN), brings together practitioners from around Europe working on the prevention of radicalisation